Background Shuffler
The need to code "something completely different" made me do Background Shuffler - a beautiful background changer for Gnome. I wanted to extend the UNIX philosophy to desktop applications so Background Shuffler only changes your background. It does not make coffee.
So I spent a few days hacking and with the help of great tools and libraries like Quickly and appindicator I managed to build this nifty little program that I'm using all the time now.
Features:
handle all through the indicator icon. No mysterious script running in the background, retain complete control over your desktop at all times
make the backgrounds change as quickly or slowly as you like
integrates with F-Spot, so search for certain tags or ratings
optionally specify a folder that will be searched with photos
But I guess screenshots explain a thousand words.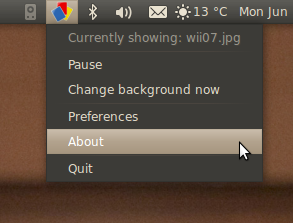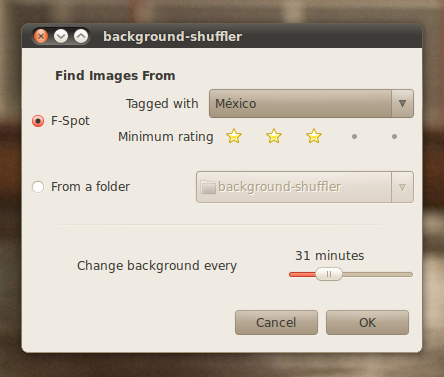 You'll probably be best running Ubuntu Lucid (10.04). To install the app just download the deb or add the ppa to your sources at: https://edge.launchpad.net/~luopio/+archive/ppa
Bugs, suggestions and patches welcome! Email at lauri(dot)kainulainen(at) gmail.com